Our Downloadable Reports and Factsheets
Our reports and factsheets are listed below. Currently the following documents are available for public review, download, and sharing.
National EMS for Children Survey Report for EMS Agencies (2020-2022)
Starting in 2020, the EDC creates this report for each year of the EMS for Children Survey results. Each year, through personalized emails, we email a copy of the current national report to the prehospital agency administrators of the 15,000+ respondent and non-respondent 911 prehospital agencies across the country.
This report consists of 3 pages and contains aggregated, national results. Each page is designed to stand on its own and covers different content and includes links to resources for agencies and the clinical significance of the results.
You can download the national reports listed below:
National Pediatric Readiness Project Factsheets
EDC staff also create factsheets and infographics of the national data we collect for download and use by stakeholders. Our current factsheets and infographics are listed below.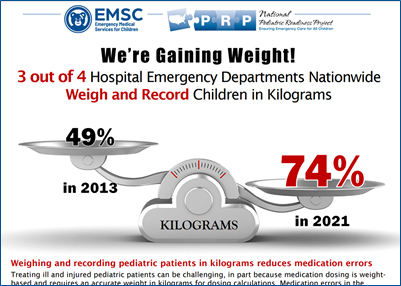 Pediatric Readiness: Weighing and Recording Children in KG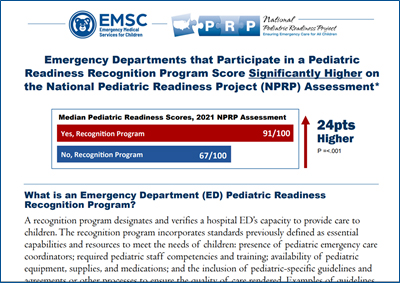 Hospital Recognition and Pediatric Readiness
We continue to see that emergency departments who participate in a Pediatric Readiness Recognition Program score on average more than 20 points higher on the NPRP assessment than those who do not. Learn more from our new factsheet!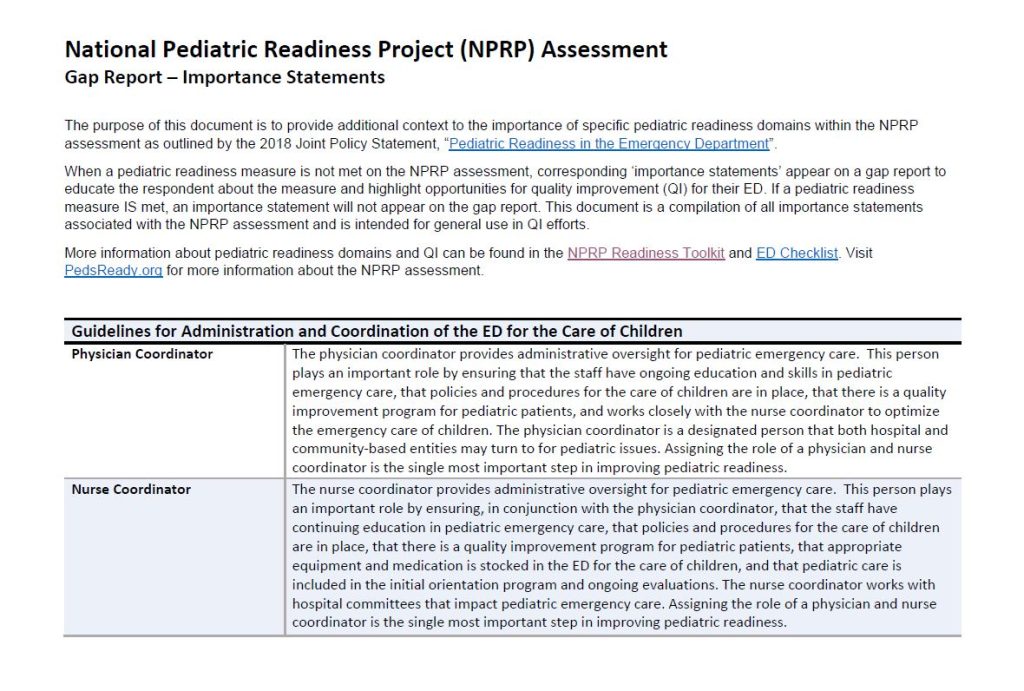 NPRP Gap Report Important Statements
These statements correspond to scored questions in the NPRP assessment gap report. They describe why certain items are important for pediatric readiness. Download the PDF to help you identify and address gaps at your facility.